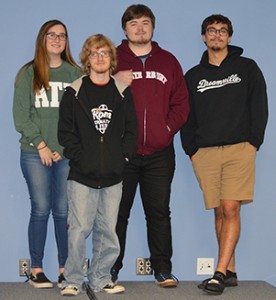 The Six Mile Post editors participated in sessions on journalism as a profession, newspapers, online newspapers and websites, layout design and film at the 2018 National College Media Convention in Louisville, Kentucky, Oct. 25-Oct. 27. The convention was held in the Galt House hotel.
Students who work on their school newspapers came from all over the country to attend the convention.
Attending from GHC were Catie Sullivan, editor-in-chief, Joseph McDaniel, managing editor of design, Nick Whitmire, managing editor of online and Scott Rosario, managing editor of sports, along with advisers Kristie Kemper and Cindy Wheeler.
The convention was hosted by the Associated Collegiate Press and the College Media Association. Experts in the journalism industry were invited to teach students about the industry and how to be successful in their work.
Kemper said, "This is a wonderful opportunity for students to learn things that will help them on the Six Mile Post as well as gain insight into possible careers some of them may choose to pursue."
Photographers, writers, editors, graphic designers and advisers taught sessions throughout the course of the convention.
The main keynote speaker was award-winning photo journalist Cara Owsley, who works at the Cincinnati Enquirer. She shared with the audience what it is like to be a fast-paced photo journalist and some of the best photos she has taken during her career.
Owsley told the story of how she and her staff won a Pulitzer Prize for a series on the heroin epidemic in Cincinnati.
SMP Managing Editor of Online Nick Whitmire, said, "I liked seeing other journalists from other schools and learning about their craft and how they get their work done for their newspaper. I also liked exploring the city."