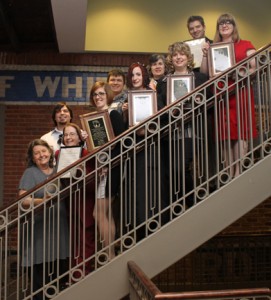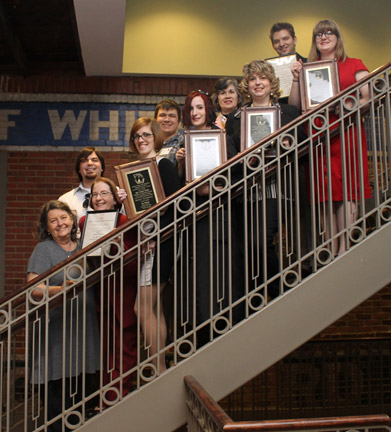 Members of the Six Mile Post staff visited Athens on Feb. 1 and 2 for the annual Georgia College Press Association (GCPA) convention and awards ceremony.
The convention features panels which give helpful information to student journalists to aid them in their budding journalism careers.
This year, the convention hosted both professionals and students alike, which provided the opportunity for student journalists to meet with a few professional journalists and editors from Georgia about career opportunities with newspapers across the state.
"GCPA is always a great experience for us, and this time was no different. It's always refreshing to be around other young journalists, because it motivates those of us who go to continue our hard work," said Andrew West, a general studies major at GHC and the editor-in-chief of the SMP.
The staff of The Six Mile Post received individual and general awards at the awards ceremony held Feb. 2. Among the individual award winners was Becky Crooks, SMP sports editor, who got second place for Best Column.
In addition, J.P. Erickson, SMP assistant print editor, and Kevin Horan, staff writer, earned third and first place, respectively for Best Review.
Ryan Jones, SMP chief photographer, won first place for Best Photograph – News.
Jones and Kaitlyn Hyde, former chief photographer, won third place for Best Photo Essay. Hyde, Jones, and Scott Hale, former assistant print editor, took first place in the same category.
West took third place in two categories, Best Sports Story and Best Editorial or Editorial Series.
The general awards received by the Six Mile Post were: first place for General Photography, first place for General Advertising, first place for Layout and Design, second place for Best Campus Community Service – Sports, third place for Best Campus Community Service – Features, second place for Best Campus Community Service – Editorials, and second place for General Excellence.
Three members of Georgia Highlands faculty and seven Six Mile Post staff attended the conference in Athens.
Those who attended were Kristie Kemper, SMP adviser, Cindy Wheeler, SMP assistant adviser, Leslie Johnston, Cartersville campus SMP liaison, West, Erickson, Crooks, Jones, Sarah Lane, Gayle Golden and Neen Snowball.
Lane was elected to the GCPA executive board.