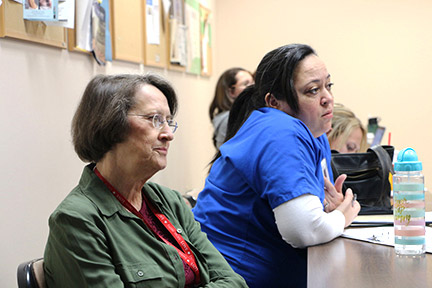 After many years of service with Georgia Highlands College, formally Floyd Junior College, Marjorie J. G. Frazier, MN, RN, will retire July 31.
Frazier has taught second year nursing students, AHSC 1101 Medical Terminology, CNA classes through Continuing Education and enjoys advising. Her enthusiasm though lies with the first year nursing students. Frazier said, "I love foundations. I love to see the lightbulbs go off."
Frazier remembers Floyd Junior College opening and the positive impact it made on the community. Frazier graduated Rockmart High School a year early, married and began Navy life with her husband.
After serving four years in FL and RI they settled in Cedartown, GA. Frazier worked as a small business owner providing sewing services and even excelled to a district manager position with AVON.
In 1979 Frazier entered FJC as a nontraditional student. She served as an officer for both years of her nursing classes. In 1982 she was awarded Outstanding Achievement in Clinical by Redmond Hospital. In the same award ceremony she received the award she is still most proud of, the Spirit Award earned for "a person who has shown enthusiasm and support of the college." She graduated with her ASN in 1982 from FJC and states she "had the most wonderful instructors this college ever had."
In 1986 Frazier began teaching part time with FJC, until 1988 when she was accepted into Emory University's master's program. In 1989 Sigma Theta Tau inducted Frazier as a member of Emory's Alpha Epsilon chapter and was also awarded Omicron Delta Kappa membership. In 1991 Frazier graduated with a Master of Nursing from Emory University. She claims it would never have been possible without the Woodruff scholarship she obtained through her solid foundation at FJC.
Frazier began her full time faculty career with FJC in 1991. That year she also obtained her Gerontological Nurse Practitioner license and later her Clinical Nurse Specialist in Adult Psychiatric and Mental Health, both board certified with ANCC.
She has served in the community under cardiac, neurology and geriatrics fields in hospitals and nursing homes with FJC/GHC. In 1995 she became a published author of "Long-term Care Companion: Skills for the Certified Nursing Assistant."
"Few have offered as rich, committed, valuable and earnest a teaching and learning experience as has Margie Frazier," said Renva Watterson, vice president of academic affairs.
Frazier is a certified nursing educator and may continue that "just for fun," she said. "The students and faculty here fill my day, my heart. I'm going to miss that every day contact," Frazier said.
She offered lasting advice for nursing applicants when she said, "Keep your grades up, the competition is growing."
For those students in the nursing program Frazier said, "Every student, myself included, has no concept of what nursing school is like because of that heavy science load. It is application of fact and a lot of students have a difficult time making that transition." She recommends students study "Test Success and Fundamentals Success," coauthored by sisters P. Nugent and B. Vitale, to help with analysis.
Frazier's plans after teaching include spending time with her husband, 3 children and 7 grandchildren. She proudly brags she will now have time to watch her grandchildren play sports.
Watterson, "She has earned her retirement. I truly hate to see her go, but I love her and wish her every happiness, now and evermore."