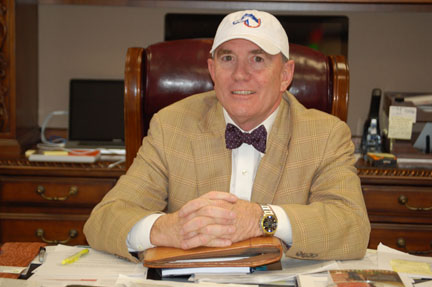 In 2001, Randy Pierce became the president of what was then Floyd College. Now, 10 years later, Pierce is retiring from Georgia Highlands this December.
When he was younger, Pierce stated that he never really thought about his future. Like many people, Pierce was the first one in his family to go to college. He made the decision on a whim. When a lot of his friends were deciding to go to college, Pierce said, "I think I'll do that with you."
He sold his car for $300, and with some help from his family, he was able to afford several quarters of college. He worked throughout his college career, which gave him much appreciation for students who have to work to put themselves through school. In the end, it was ultimately his professors and deans that inspired him to pursue his career.
Looking back on his career now, Pierce is very proud of the direction that the college has taken since he first took his position. He is especially happy with the smooth transition over to decentralization. Pierce believes it helps "to put services closer to students."
In his 10 years, the college has grown into a multi-campus institution. Pierce is looking forward to seeing the college grow even more now that there will be an option for a four-year program and the acquisition of a new athletics program. He believes the "next 10 years will be even more dramatic in its changes and transitions."
Pierce described his career as "fast and furious," and said that he "couldn't have asked for a better way to spend the last quarter of a career."
The fast pace and decision making are some of the things Pierce will miss when he is retired. He'll miss the influence and not being the boss as well. Pierce quoted the former chancellor, Erroll Davis, as saying, "You go from being 'Who's Who' to 'Who's he?' to 'Who cares?'"
Pierce wants to be remembered as a good person and for not "screwing it up." He hopes he has left the college at least in as good a shape as it was when he became president. Impacting someone's life in a good way is always something to be proud of, and Pierce hopes he has inspired students as he was inspired years ago.
After he retires, Pierce wants to "take some time to decompress, let it sink in, and fall off." He looks forward to being able to have time to work out in the school's gym every day if he feels like it and to enjoy other hobbies.
He said that he's "not adverse to cutting grass and trimming shrubbery." Though he's looking forward to retirement, Pierce stated that he was "not totally ready for assisted living yet."
Pierce has been with the college through many changes, and though his retirement was ultimately a tough decision, he awoke one morning and thought, "Oh my gosh, I've been doing this for 40 years; I need to go!"
He has dedicated many hours to this college, and after this December, he'll be able to start a new chapter in his life.
Maybe he'll start with a bike ride with his wife, unless she wants him to mow the grass.