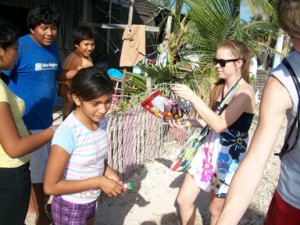 On Dec. 30, 2012, GHC student Haley Irving traveled with a group of 23 missionaries from Lakeview Baptist Church in Rome to Kantunilkin, Mexico. Led by Jason Willis, pastor of Lakeview Baptist, the team stayed in Mexico for seven days and did several mission projects throughout the week.
Kantunilkin, Mexico is a Mayan village located about two hours from the city of Cancun. Kantunilkin has a population of about 22,000 and is one of the larger villages in the area.
One of the main mission projects that the team planned was a New Year's Eve carnival in the city square with activities and games for the locals to enjoy. Activities included a candy walk, ring toss,
face painting, basketball shootout, go fish and water balloon toss. Each station handed out prizes such as candy, toy cars and dolls.
Roger Deberry, Rome Fire Department's chief of training, also went on the trip to train some of the local police in CPR. He was assisted by his son, Taylor Deberry, who is also training to be a fireman.
For the three days after the carnival, the team held a backyard Bible school at the mission house where they were staying. The first night of the Bible school, approximately 65 children were in attendance. By the last night, that number had more than tripled with about 220 children and parents in attendance.
On Friday, Jan. 4, 2013, the team traveled back to Cancun and took a ferry boat to Isla Mujeres, a small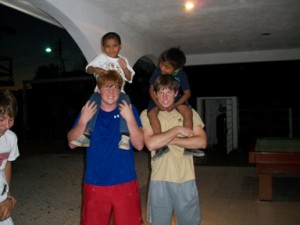 resort island off the coast of Cancun. While there, the team handed out candy and toys in the "cardboard city," which is where the locals live- in cardboard shacks.
Irving said, "It's unreal. These people have a million dollar view and they live in boxes. The kids are so happy to get one piece of candy that they jump up and down with joy. It breaks your heart."
The trip was an eye-opening experience for all who were involved.
Miranda Morgan, a Berry College student who went on the trip, said, "I left my heart in Mexico. I can't wait to go back."