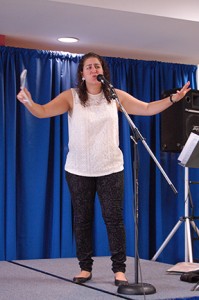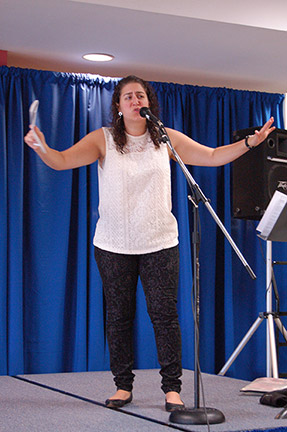 "Do everything
But actually
Break."
Those are the last three lines of Caroline Rothstein's poem "How Not to Purge."
Rothstein, a social activist who tours college campuses performing spoken word poetry and speaking to students, suffered from eating disorders for 10 years of her life.
Rothstein visited three of the Georgia Highlands College campuses in October: the Douglasville campus on Oct. 7, the Floyd campus on Oct. 8, and the Cartersville campus on Oct 10.
She told me that she does "a lot around eating disorder recovery and positive body image" and "cares a lot about dismantling homophobia and racism."
It is obvious from her performance and works that she is uncensored, which helps people relate to her. She makes it feel as if everything she writes and says is directly to the audience.
When she performed her poem "How to Have the Best Orgasm of Your Entire Life," I looked around and saw students snickering with looks of disbelief on their faces.I also looked around when she performed her poem "Life Worth" and saw these same students with solemn looks, trying to hold back emotion.
While Rothstein was at the Floyd campus, a student asked how her friend could recover from an eating disorder. I missed the conversation but asked Rothstein about the question later. She said, "I shared how I recovered. I talked about doing a lot of therapy, but also having an epiphany and a realization that I deserved to not harm myself."
Rothstein is an inspiration. In my copy of Rothstein's "This Book Wrote Itself," she wrote, "The world needs your voice! Keep sharing and telling stories!" This is probably the best advice—not only for me, but for everyone.
To learn more about Rothstein, you can look at her website, www.carolinerothstein.com; follow her on Twitter, www.twitter.com/cerothstein; or Facebook, www.facebook.com/CarolineRothsteinOFFICIAL.
Rothstein is currently launching www.youtube.come/CarolineRothsteinTV, but you can go to www.youtube.com/Cavernchick to see what she already has posted.