Lady Chargers victorious in home opener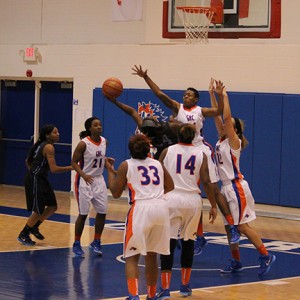 The Lady Chargers defeated the Lady Cougars of Cleveland State 70-40 in their home opener Nov. 11.
Skye Overby, guard for the Lady Chargers, said, "We did pretty well, but we could have hustled a little bit more in the first half."
The Lady Chargers went into halftime with a 32-18 lead. After a Veteran's Ceremony where Georgia Highlands thanked the veterans in attendance, the Lady Chargers came out strong against Cleveland State in the second period.
"We played pretty tough. I think we just had to keep the tempo up," said Aujana Dawkins, forward for the Lady Chargers.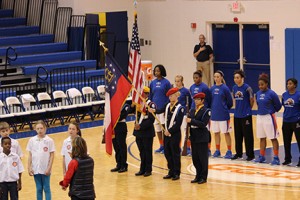 Demetrius Colson, assistant women's basketball coach, said that it was the defensive mistakes that hurt the team the most in this game.
Leading scorers for the Lady Chargers were Dawkins with 28 points and 19 rebounds, Deana Blankinship with 14 points and 11 rebounds and Danyelle Blankinship with 11 points and four rebounds.