Georgia Highlands College running club makes debut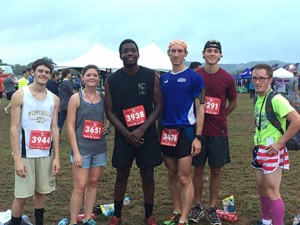 The Georgia Highlands running club participated in the 2015 Wingfoot XC classic, held in Cartersville Sept. 26.
This annual event, organized and hosted by the Atlanta Track Club, brings together competitive middle and high school teams as well as other running groups and individuals to compete in a five-kilometer cross-country race.
Competing for the GHC running club were club adviser Chris Hart, club president Lauren Morrow and members Alex Jackson, Morgan Brake, Marquis Holmes and Brett Arnold.
In the club's first competitive race of the year, Hart, Arnold and Blake placed in the top 25 percent of the overall runners.
"It's an honor to be representing my school by running," Blake said after the event.
He said, "Each race motivates me more and more. I believe that if you want to become the best runner you can be, start now. Don't spend the rest of your life wondering if you can do it, because you can do anything with work."
The GHC running club is currently scheduled to run in the Savannah College of Art and Design's cross-country invitational on Oct. 2 and the Berry College cross-country invitational on Oct. 17.