Booster Club supports GHC athletics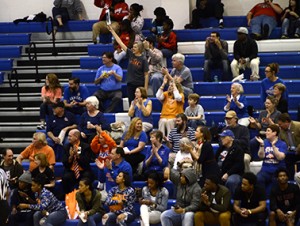 The newly formed Charger Athletics Booster Club helps with fundraising and promotion for the college's athletic teams.
Its mission, according to Jason Hitzeman, associate professor of biology and Booster Club president, is "to provide Georgia Highlands College's Athletic Programs with support in helping its student-athletes achieve intellectual, physical, and personal growth while competing at the highest level of the National Junior College Athletic Association."
A small group of faculty, staff and community members are currently setting the groundwork to have a fully functioning club for the start of the 2016-17 school year. They have been working on drafting bylaws, electing officers and a board or directors, and volunteering at some events.
In addition to Hitzeman, the offers are Vice-President Andy Dawson, associate professor of biology, and Secretary-Treasurer Lorrie Rainey, administrative assistant of athletics and natural sciences/PE.
So far this year, Booster Club volunteers have worked at the GHC Border Battle softball tournament and assisted with the hospitality room at the men's basketball tournament. They also ran the concession stand during area girls and boys basketball all-star games hosted by GHC on March 10.
Hitzeman said, "Although we are wrapping up this year and there isn't much left to do, anyone who wants to be involved can contact me at [email protected]."
Membership in the booster club is open to anyone interested in supporting Charger Athletics.