Cartersville campus road work coming to an end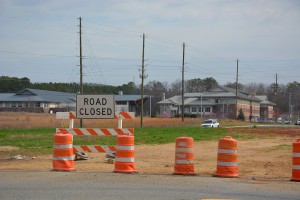 What once was a sea of traffic cones and construction workers in front of the Georgia Highlands Cartersville campus is now a four-lane roadway.
According to the Georgia Department of Transportation, the project is 78.12 percent finished, and the project completion date remains March 2017, as previously reported.
The construction aims to bring easier access and shorter travel times for commuters travelling between Highway 411 and Route 20 by widening state Route 20 from two to four lanes and then relocating Route 20 to better access 411. Leslie Johnson, Cartersville campus dean, said, "The construction has certainly given us some challenges, and it has been confusing at times, but noticing the progress has been very nice."
While more work is to be done on the roads, the completion of the four-lane roadway eases travel to the Cartersville campus from Highway 411.
Student Hannah Ransom said, "It was super frustrating dealing with traffic and changing routes on the way to class. I'm glad that stress is basically over. I was worried the construction wouldn't be over until I graduated."
Another student, Shelby Barron, agreed. "The traffic was inconvenient at best, but incredibly stressful at its worst," she said.