Georgia Highlands art professor illustrates new children's book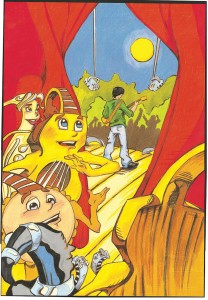 Professor of Art Brian Barr's illustrations will be published in a sequel for a children's book.
Barr was chosen by Harry Musselwhite to illustrate his book "Martin the Guitar," which was published in 2012. Barr has now finished illustrations for the sequel, "Martin the Guitar: On the Road."
The book is more of an adventure story than the first, and it follows Martin at a music festival after he was bought by a musician in the first book.
"The fun part of that was I got to draw slightly different environments and stuff like that. Because there was multiple scenes, where as in the first one it all took place in the same room," he said.
There is not currently a release date, but Barr hopes that it will be out by Christmas.
Although he has never had his work in a children's book before this series, Barr has had some of his illustrations and artwork published previously.
This includes illustrations for the comic Jackdaw that is written by Kelly Shane, associate professor of math. The comic can be found at jackdawcomic.com.
"I found something interesting with working on this and working on the comic book, I kind of enjoyed the challenge of somebody giving me a story and then me having to figure out how to make it work," said Barr.
He continued, "I found that really rewarding, taking somebody else's idea and then finding a way to make it realized into a picture."
By grad school, Barr had decided that teaching the arts in college was something he was interested in pursuing, but art had always been an interest of his.
He said, "Pretty early on I started drawing as something that I did for fun and outside of class which is kind of why I was interested in doing the children's book because I did cartoons and stuff when I was a little kid."
Dean of Humanities Jon Hershey said, "I think it's vital for faculty members to be thoroughly involved with their subject area and to explore wherever that subject matter may take them. Whether it's academic research or a creative venue like 'Martin the Guitar.'"