ASL basics event may lead to certification courses in the future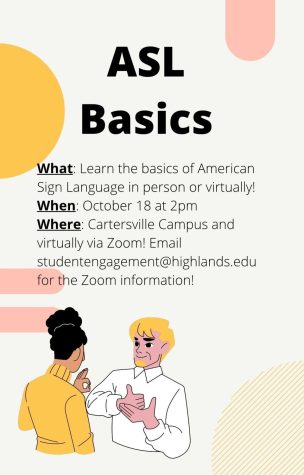 Anyone who is a part of the GHC community is invited to learn American Sign Language at the ASL Basics event offered by Student Engagement. Participants can join in person at the Cartersville campus library or virtually via Zoom on Oct. 18 at 2 p.m.
The workshop will be led by Admissions Counselor, Trish Lindsey and Information Specialist, Debby Zeigler, who is deaf. Interpreter Rebecca Cowan-Story will be assisting with the event.
They will cover the basics of ASL, including the ABCs, conversation pieces, colors, sentences and answers to questions one might get when signing. The event will also cover etiquette in the ASL community.
"It's a great communication tool," said Lindsey, "There's a lot of people out there who need some sort of assistance with communication sometimes, and it's good to be a tool for them."
Co-curricular and Transition Programs Coordinator, Clifton Puckett, proposed the event about a year ago because there was interest in an ASL certification course at GHC.
"[ASL] has a lot of great qualities about it. It's just a different type of communication, for one. It involves people in an alienated population — a lot of times we don't think about hearing impaired people," said Puckett.
"I think the main thing [the event] does, obviously outside of learning the skill of ASL, it gets you thinking differently. It gets you thinking in a mode that 'not everyone can hear as well as I can. Some people can't.' I think that's the biggest part," Puckett said.
Puckett and Lindsey say if the event sparks enough interest, it could lead to an ASL course being offered in the future.
"The plan [in an] ideal world is we can fully fledge this, where for students in GHC, if you want to get certified, we can offer you a free class," said Puckett, "It wouldn't be for credit . . . but you could get a certification in ASL"
Email [email protected] for the Zoom information for the event.
Leave a Comment