Chargers basketball predicted to have strong 2022 season
JJ Merritt enters his third season at the helm of the Chargers basketball program, with impressive results in his first two seasons.
He has compiled a 40-11 record, including a 16-3 record during the shortened season earlier this year.
Last season, the Chargers were able to win the regular season GCAA title, clinching the top seed in the annual tournament.
The Chargers had high expectations for the tournament, but shockingly, they lost to the East Georgia State Bobcats in the quarterfinals.
The NJCAA predicts that the Chargers should have a good season, having ranked number 23 in their preseason poll.
Roster
#0 Jarred Rosser
#1 TJ Porter
#2 Jarrel Rosser
#3 Chris Wright
#4 Joel Pullen
#5 Bradley Belt
#10 CJ Jackson
#12 Brandon Barron
#13 Julian Dozier Jr.
#15 TJ Horton
#20 Kyree Hairston-Mitchell
#21 Ubong Ukon
#22 Justyn Smith
#23 Mamadou Diop
#24 Jayvis Harvey
#30 Jordan Brown
Head Coach: JJ Merritt
Associate Head Coach: Greg Schiefen
Asst. Coach: John Williams
Asst. Coach: Julian Reinhart
Asst. Coach: Reymond Savage
Biggest Advantage
It isn't hard to find out that this team's strength is their chemistry.
Bringing back an entire starting lineup of players that made a big impact on the team last season, the Chargers will have plenty of experience to go around.
In all, eight players are returning to the roster from last year's team and will play a huge part in how this team does this season.
Biggest Weakness
Perhaps the biggest weakness on this team is the lack of a proven big man, aside from Jarred Rosser.
Merritt brought in two big men during the offseason that could be tall enough to play center, Ubong Okon and Mamadou Diop.
Okon saw three games in his only season at Chipola College last season and Diop has had zero college experience.
This will make the Chargers rely on playing what seems to be a small ball lineup, but the Chargers could use it to their advantage by spacing the floor out.
Biggest Question
How do the Chargers replace the likes of Cahiem Brown, Langston Wilson, and Keandre Bowles? Well, the question is easier to answer than it seems.
Wilson, who came into last season ranked as the second best player in JUCO, only started 3 games for the Chargers last season and played limited minutes when he was on the court.
Brown dealt with an injury midseason that restricted him to only playing 13 games.
Bowles played in 15 games for the Chargers, starting only three of them while mainly coming off of the bench.
It is safe to say that Merritt began the tall task of moving past the trio last season, finding production in players that he saw as the next stars for the Chargers.
Leave a Comment
About the Contributor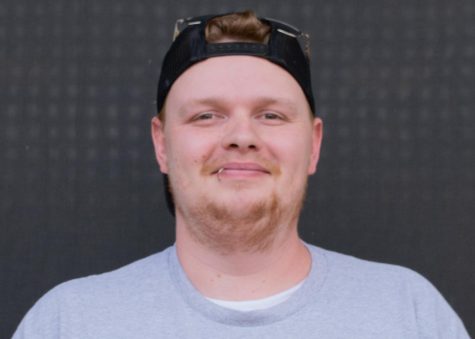 Brandon Dyer, Sports Editor & Podcast Host
Sports editor Brandon Dyer strives to become the next big thing in journalism. He has been a part of the Six Mile Post staff for four semesters and wants...