Basketball teams gearing up for inaugural season
The GHC basketball teams are ready to hit the court.
The first game is an away game on Nov. 1 against East Mississippi Community College in Scobba, Ms.
Both the men's and women's teams are very excited to play their first game. Men's team member Demaurius Morgan said, "We are very excited, but also a little bit nervous. We have big shoes to fill. We're here to put Georgia Highlands on the map."
Members of the men's and women's teams all seem to get along well with other team members. Women's team member Scandre Lee described the women's team as "sisters."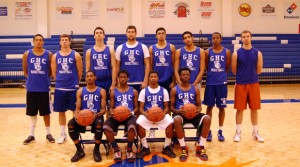 Talking about living together in their apartments, the men's team members generally agreed that it's like "Jersey Shore up in here."
The other team members aren't the only people with whom the players will be spending a lot of time. The players also spend time with the coaches. Women's team member Gabrielle Kendall said, "We have our good days and our bad days, but overall they're alright."
Members of the teams consider it a high honor to be the inaugural basketball teams for Georgia Highlands College. For their first home game on Nov. 4 against Wallace State, the players want to see the entire student body in the stands, cheering for the Chargers.