Chargers and Lady Chargers moving forward in first season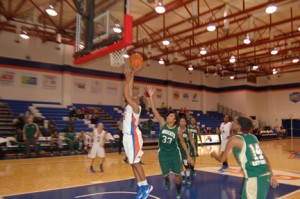 Any sports season can be tough to get through, but for the Chargers and Lady Chargers, the season only gets tougher the longer they go.
Plagued with injuries, both teams fight to stay optimistic and keep their competitiveness alive.
For the Lady Chargers, the toughest part of their season is now. Playing through the "meat" of their conference schedule in this second half, it's important to "get and keep all the players healthy," according to Brandon Harrell, head coach of the Lady Chargers.
Three of the Lady Chargers are dealing with recent knee surgeries, and, at best, the team is running with five to six players per game, though Harrell hopes to be back at six to seven shortly and, eventually, eight players.
Despite the injuries and losses, Harrell is still very optimistic about the team's chances in the playoff tournaments.
If the Lady Chargers can win the rest of the games this season, then Georgia Highlands would be hosting all the games of the tournament, meaning the Lady Chargers would hold home court advantage throughout the playoffs.
Though he stands by his optimism, Harrell admitted, "How our season ends will be directly related to how healthy we are."
Phillip Gaffney, the athletic director and head coach for the Chargers, is struggling to keep the injuries at bay for his players as well. However, he is fighting a different battle, one of a losing season.
"We may have bitten off more than we can chew," admitted Gaffney, adding, "but these players have kept a great attitude, and they are still working really hard."
The men's team has had many close games this year, but as Gaffney said, "It's like Lucy and Charlie Brown; we get so close, and then, someone pulls the ball away."
The team is made up entirely of freshmen, and Gaffney's hopes are still for the playoffs. If the team can win five or six games, there's a good chance for them to get into the playoffs.
Gaffney's pride showed through when talking of his players; he showed respect for their work ethic and how they've fought off negativity from their past losses.
The teams have a tough schedule ahead of them, but their coaches are very hopeful and optimistic about the future of the Georgia Highlands basketball teams.