Nursing alum was in Olympics
Georgia Highlands College has produced many alumni over the years, as has been on display this year during the Alumni Spotlights at some of the Chargers basketball games. A lot of GHC's alumni were born in Rome and are still in Rome, working in our community. Some, however, have come from places quite different from Rome or even the state of Georgia.
One of those is Janet Cherobon-Bawcom who grew up in Kenya and recently competed in the 2012 London Olympics as a distance runner.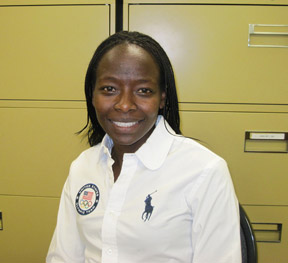 Cherobon-Bawcom was recognized during one of the halftime Alumni Spotlights on Nov. 10 for her accomplishments as not only a runner but also as a nursing student here at GHC.
Unlike most students, Cherobon-Bawcom had a four-year degree before starting at GHC. She first completed a bachelor's program in Business Administration at Harding University in Arkansas. "See, I went the other way. People go to junior college and then college, but no, I went to college and then came here," she said.
However, like a lot of GHC students she describes her experience here as a good one, saying, "I had a great experience. I got to learn a lot, and I don't know if it was because of my maturity level, or just because there are great faculty here, but I really felt like I took away a lot."
Cherobon-Bawcom's goal in coming to the United States was not to become a great runner, but to use her running as a means for making a good education a reality for her. Matching her accomplishments in the classroom, though, her athletic accomplishments are perhaps just as admirable.
She described participating in the Olympics as a great experience. "It was exciting. It was breathtaking," she said.
However exciting it was, she still had a hard time believing that she had made it quite as far as she had, saying "I was like, 'Maybe I should pinch myself.'" She continued, "You watch all these people on TV, and then to be eating with them and conversing with them and staying in the same building with them was just incredible."
Success is something Cherobon-Bawcom has achieved, and she doesn't show any signs of stopping as she is currently working on her BSN at Jacksonville State University.
She had some words of advice for GHC's current student athletes. "I feel like [being a student athlete] really gives you a balance. When you get out in the real world, it's not just going to be a job that you are going to do. You're going to have a job. You're going to have a family, and I think it really helps you get the balance of stuff," she said.