Student veterans help save life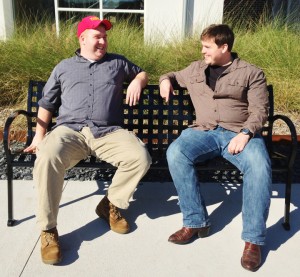 Two courageous GHC students, Christopher Tranter, president of GHC's chapter of the Young Veterans of America, and James Wyatt, vice president of the club, performed a heroic act while traveling to a convention in Orlando.
Tranter and Wyatt said it was a beautiful sunny day as they were driving on the interstate in Florida. The two veterans were on their way to a Student Veterans Conference and were about an hour-and-a-half away from arriving in Orlando.
All of a sudden, an automobile that was only three cars ahead of them flipped.
Tranter explains the horrific scene of an automobile flipping across the interstate as if it happened yesterday.
"The car flipped from the middle lane, to the left lane. Then from the left lane, the car fell into the grass and hit the rail which made the automobile fall back on the interstate," he said.
"It was so shocking. It just happened out of nowhere. After the car did many flips across the interstate, a female passenger was ejected from the car, and we soon pulled over to help. The scene reminded me a lot of when I was overseas. It just seemed surreal," Tranter said.
Tranter and Wyatt decided to pull their car over immediately to help the people affected in the accident.
When they arrived at the scene, the female that had been ejected from the car was not moving.
Tranter ran to grab a first aid kit, while Wyatt assessed the situation to see what action should be performed next.
Luckily, a doctor happened to pull over, and he took over the care of the female, so Wyatt and Tranter hurried to the automobile to make sure that the other passengers were all right.
The two men assessed the car and checked for possible gas leaks that could have led to any explosions.
They described the passengers as being "shocked and beginning to break down."
The female woke up shortly after the ambulance and police arrived on the scene.
"The adrenaline rush was still going through me when I left the scene. I couldn't stop thinking about it," said Tranter.
Both men did whatever they could to make sure that everyone involved in the scene was all right.
"This is something that I will never forget. It just teaches me that anything can happen anywhere at any time," said Tranter.