GHC alum breaks running record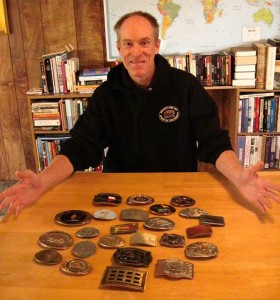 GHC alumni Scott Brockmeier loves to run. He loves to run so much that he participates in 100-mile races.
In 2012, Brockmeier broke the world record for the most 100-mile races in a year by a male with 27 races.
Brockmeier has always enjoyed endurance sports, but running was not his first love. "I was big into rock climbing for 17 to 18 years," said Brockmeier.
Unfortunately, being in graduate school in North Carolina hindered his ability to keep his endurance up. "It was kind of frustrating. I wasn't able to get out very often and I wasn't able to climb very long because I had lost my endurance," said Brockmeier. So Brockmeier looked for something he could train for in his own backyard.
The first thing he came up with was adventure racing, which is a race that includes two or more endurance sports such as cross-country running, mountain biking and paddling. However, the logistics seemed to be too much to handle.
While researching adventure racing, Brockmeier came across ultrarunning, which involves races that are longer than the standard marathon distance of 26.2 miles.
He started to train for a standard marathon, and in the summer of 2001, he completed his first marathon. In October of the same year, he ran a 50-mile race in Virginia.
Brockmeier continued to train, and in April of 2002, he finished his first 100-mile race in North Carolina.
From then on, he was hooked. Brockmeier said ,"I fell in love with it right away, and I fell in love with the people. A big part of the attraction to the sport is the people who do it."
After years of running 100-mile races, Brockmeier began to wonder how many he could complete in a year. In 2012, he decided to find out.
With the end goal of completing 30 races, Brockmeier set out to test his limits. The previous record set in 2010 was 25 races in a calendar year.
While he did not make his personal goal, Brockmeier managed to break the record for males by two races, finishing the year with 27 races.
Brockmeier never won any of the races he competed in, but for Brockmeier,the goal was "always about finishing."