Students come together for Intercultural Fair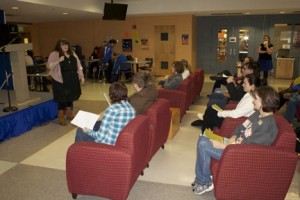 Georgia Highlands' Floyd campus hosted the Intercultural Fair on Feb. 26, revealing different cultures present on the campus.
"What we mean by culture isn't necessarily countries but a group you can identify with," said Erica Simpson, assistant professor of communication. Simpson's intercultural communication students were the ones who set up and ran the event.
There were seven different booths at the fair, each displaying different cultures that can be found at GHC. The cultures included introverts, freshmen, sophomores, student athletes, non-traditional students, religious diversity and the LGBT community display.
"I didn't enter the contest but I saw the booths and they caught my attention," said Angelina Aceves, f­­reshman at the Floyd campus. She added, "I went over and I liked how they talked in-depth about their topics, especially the introverts one."
Students who went to four or more displays had the opportunity to enter their names for a chance to win prizes. The prizes included a free Charger Café lunch, a GHC t-shirt, a gas card, a Bath and Body Works gift card and a Mellow Mushroom gift card.
"It all went very well," Simpson said. "Everyone presenting went up on stage and talked about their display."
She added that there were 75 students who entered the contest.
Sixty-three students also signed up for extra credit that was available in return for their attendance.