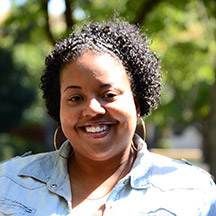 I could easily be categorized as the epitome of a stereotype.
I was born to an urban single mother, raised by my grandparents and became a parent during my senior year of high school.
Somewhere between the clichés and the hardships, I managed to graduate from a top-rated private high school in Ohio and later land a corporate position with a multi-million dollar property management company.
These were definitely accomplishments for me.
However, after becoming a parent two more times within five years, failing college attempts and having a job that consumed me, I wasn't satisfied with my life. I couldn't be just the teen mom that made ends meet.
My job had put me in a stable financial position to own my own home; however, a job wasn't enough for me. I needed to have a career. I needed to set an example for my children.
My passion has always been writing. From the time I was a little girl I can remember having numerous notebooks full of poems.
My poems evolved into songs. The songs told stories of my life, love and tribulations. Writing was my outlet and my therapy.
I pursued writing as a hobby until it hit me that we are born with gifts for one reason, to use them. My job made me money, but my passion was what fueled me every day.
Merely a year ago, I decided to make my passion my career.
Leaving Chattahoochee Tech as a marketing major, I entered Georgia Highlands fall of 2013 to become a journalist.
I look forward to every single moment. Though the sacrifices are great, I am looking forward to the reward of pursuing my passion.