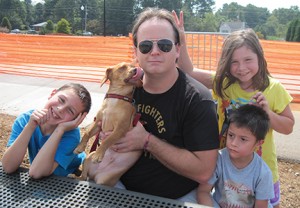 Time management is something that some of us naturally struggle with. Trying to adjust to college life along with juggling a job or family can be difficult.
While the FCST course can help students with study skills and time management tactics, there are students that are real life time management experts at Georgia Highlands College.
The Marietta campus is home to one of the most astounding "non-traditional" students.
He is a 20-year Navy veteran, father of five, a full time Georgia Highlands student and a man one week away from being a new husband.
These may sound like the identities of four different people. However they are the many hats that Christian Carter wears.
Carter knew he had a duty to help people.
He was a volunteer fire fighter in high school, which led him to pursue the same path in the military for 12 years.
Later, switching to become a police officer in the Navy, Carter honed in on his knack for law enforcement.
He fathered three daughters with his first wife, which made his drive for making a difference even stronger.
Carter's military career brought many life lasting skills and monetary benefits.
"You can't buy that kind of training," Carter said. This training was part of his pathway to return to college to major in chemistry and become a forensic scientist.
Making the decision to go to college at any age is a major decision. There will be sacrifices. Carter understood that the benefits held much more weight.
Becoming a Georgia Highlands student is just step one of Carter's plan.
Afterwards, he plans to attend Kennesaw State to continue his path in law enforcement.
"At the end of the day it is only going to benefit me and my family…it's a win win," Carter said.
With his fiancée's support, Carter manages a household, stays on top of a full-time school schedule and is currently planning a honeymoon.
It is human nature to complain about being too tired to complete an assignment or make excuses for being late to class. But Carter was able to serve this country for 20 years, humble himself to become a college student with students half his age and still had time to get his children down for a nap at 1:30 p.m. every day. His life is a symbol of effective time management.
According to Carter, his calling is to "help people." He is a prime example of pursing his calling and recognizing his duty.