Flag football kicks off at Floyd and Cartersville
Brooke Gavin & William Thomas
October 29, 2013
Intramurals are already under way at the Cartersville campus; flag football teams are starting off strong.
Last year's champions, The Bumblebees, have a stake on the Charger Field. The team has been renamed B2B, mainly consisting of the members from the club, Brother2Brother.
"The club decided to make an official flag football team this year to get more recognition at GHC," said team captain, Aaron Foster. B2B also recruited players outside of the club to build an unstoppable team.
Coach Ikenna Onwuliri is planning to take his team straight to the championship, but that is not without a fight. "We need to really work on teamwork, because we have so many individuals on the team. Defense is also another area we have to get down before we even think about the finals," Onwuliri stated.
The Championship series is later this fall, with dates to be announced soon.
B2B could be the team to beat this year, but there is still time for an underdog to take home the trophy.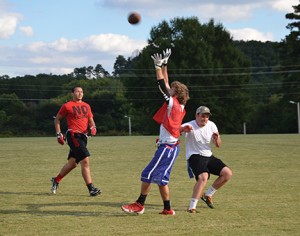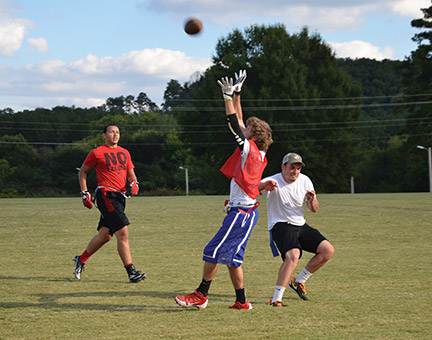 Flag football, basketball, beach volleyball and many other activities are offered as co-ed intramurals on the Floyd campus.
At the Floyd flag football Championship game, Oct. 20, the "Cuban Raft Riders" took the victory against the "Money Team." The final score was 42-27.
According to Jonathan Merritt, intramurals coach for Floyd campus, these players take the sports seriously. They practice and work out to prepare for the games.
All sports are co-ed, except for tennis, which has a men's and women's bracket.
Intramurals are free to sign up for. There are flyers up on the Floyd campus with information on joining the teams.
Students can also contact Merritt via his email at [email protected]