Chargers make history with home win!
With a final score of 87-84, the Chargers beat Gordon College Nov. 13 for the first home win in the team's history.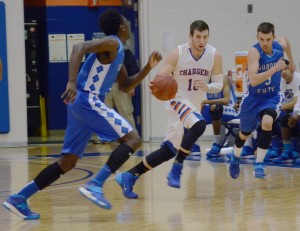 Down 17 points at halftime, the Chargers staged a determined comeback in front of an enthusiastic crowd. The entire atmosphere in the gym reversed with a surge of intensity.
The Chargers fought their way back to a tie. Then the lead bounced between the teams, leaving the crowd on the edge of their seats for the last few minutes of the game.
The team and coaches displayed great post-game excitement over the win.
"We stepped up as a team," said guard Matt Catanzano.
Dominique Lindsey, guard, said, "The second half felt great. We stuck together."
Head Coach Phillip Gaffney said that the Chargers showed a lot of heart on the court during the game.
"Heart, character, perseverance, that's what we want to see on or off the court," Gaffney said.
Gaffney mentioned that coming back from being down 17 points is great. The Chargers could have quit then, but they pushed through to victory.
Leading the Chargers to a win in their first home game of the season was Catanzano with 21 points, Montrel Goldston and Donovan Harris with 14 points each and Jamison Jeffers with 9.
The GHC pep band and cheerleaders added to the competitive atmosphere.
During the halftime tribute to veterans, James Wyatt, president of GHC's Student Veterans of America, and Amy Wise, GHC veteran affairs coordinator in the Office of Community Outreach and Engagement, were recognized at midcourt.
[slideshow gallery_id="12″]