Lady Chargers dominate GNTC Lady Bobcats in home opener
Ending their first home game with a final score of 89-49, the Lady Chargers claimed another victory for their 2013-2014 season by defeating the Lady Bobcats of Georgia Northwestern Technical College on Nov. 23.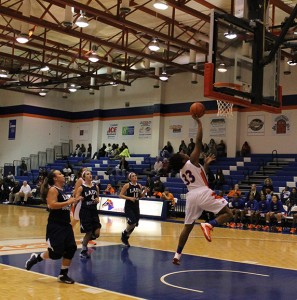 The Lady Chargers stayed in the lead throughout the game. By halftime they were ahead by 34 points.
"We came out in the lead during the first half so we could relax a little during the game," guard Shakierya McClendon said.
Being up by 45 points with just under 16 minutes left to play in the second half, the Lady Chargers made wholesale substitutions for the end of the game.
"It was a good game," said Brandan Harrell, head coach of the Lady Chargers. "Everyone got a chance to play."
Leading the Lady Chargers to victory were Cassidy Allen with 16 points, McClendon with 15, Daijea Anderson with 13 and Amber Curtis and Michaela Suttles with 11 points each.
This win against the Lady Bobcats put the Lady Chargers at 3-0 for the GCAA conference.
After the game, the Lady Chargers thanked everyone in attendance for coming to the game.