Game day for Georgia Highlands College Charger Montrel Goldston II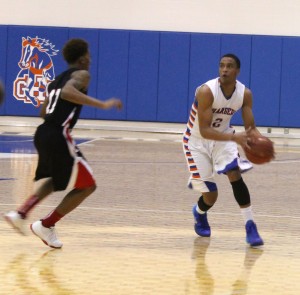 Montrel Goldston II, originally from Greensboro, N.C., is a freshman guard for the Chargers basketball team who is in his first season with the team.
His daily routine on game day doesn't waiver from his normal days. He gets up and does what he usually does every day: Shower, eats breakfast, gets dressed and goes to class. He is focused, and he likes to keep everything as normal as possible.
Many athletes listen to music on the buses en route to their games. It is sort of a calming technique to get away from everything and help focus on the task at hand. Listening to the music playing in the gym during warm-ups helps him focus on the game ahead. Drake and Meek Mill are some of the artists found on Goldston's iPod.