Daughter of GHC professor excavates in South Africa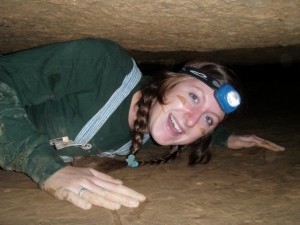 Hannah Morris, former GHC student, was part of the "Rising Star Expedition" archaeology trip that recently participated in the largest fossil excavation in Sub Saharan Africa.
"There are not many sites like this one. I was very excited to be part of the project," Morris said.
Morris is the daughter of Billy Morris, professor of geology on the Floyd campus.
She attended GHC in 2004 and 2005. She received her undergraduate degree from the University of Georgia and later went to Ohio State University to get her graduate degree in archaeology.
Morris said she heard about the trip through Facebook.
Morris stated, "Lee Burger was the one in charge of the expedition. He posted on different social media sites, and I saw the one on Facebook."
She then messaged Burger that she was interested in the trip. "After that I was interviewed via Skype and later by phone," Morris said.
The team that went to South Africa consisted of six excavators, ten cavers and some senior scientists.
Morris and the others were in South Africa for three and a half weeks, from Nov. 3 to Nov. 21.
This expedition was also covered by National Geographic
Morris works for the American Museum of Natural History, based in New York City.
She is also currently working along the coast of Georgia.