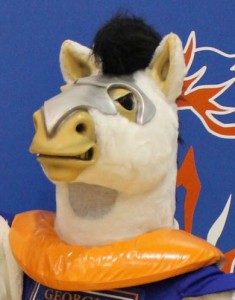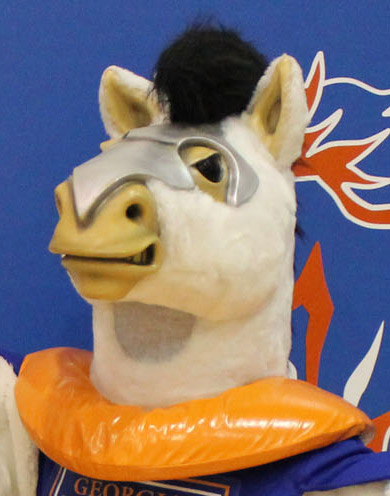 Georgia Highlands' mascot, Bolt, has been missing from all of the home basketball games. Where could he be?
Bolt's lack of attendance isn't just a mere mistake. His absence is a result of a lack of having someone to actually commit to play the role.
In order to successfully play the role of Bolt, a person has to have school spirit. Once again, school spirit is always going to be an issue.
College is more time-consuming and way more demanding than high school ever was, but why not take a break for an hour or two and go to one of the last basketball games, or perhaps the baseball and softball season openers? Better yet, why not go to the games dressed as the mascot?
When I was in high school we almost always had someone in our mascot costume. Whether it was a cheerleader or a booster club parent, Rocky the Yellow Jacket was at most, if not all, athletic and scholastic events at Rockmart High School.
Being the school mascot isn't an easy task. The Bolt suit can be hot and uncomfortable at times, but think of how the pros outweigh the cons. Bolt gets to attend all of the home games and bring more spirit to the crowd.
Just like every commitment, there are certain requirements and policies everyone must meet in order to fulfill the role of Bolt.
Of course, Bolt will need to be enthusiastic and spontaneous. What mascot isn't?
Also being able to show sportsmanship, creativity and self-discipline are key parts in being the Georgia Highlands mascot.
For more information on Bolt requirements and policies, visit the Student Life link on GHC's home page.
Those interested in becoming the GHC mascot should email John Spranza, Floyd student life coordinator, at [email protected].
Update: After this column was published Bolt appeared at the Feb. 25 home basketball games.