Lady Chargers begin 2014 softball season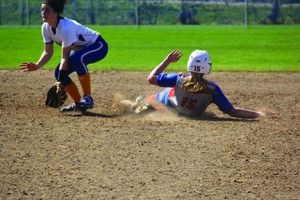 The GHC Lady Chargers softball team kicked off their season on Feb. 1.
They took on Central Illinois Community College during the JUCO Kickoff Classic in Clearwater, Fla. They beat Central Illinois 7-3.
During the classic they also played Central Florida Community College, St. Pete Community College and Florida State College at Jacksonville. However, none of these games resulted in a win for GHC.
During a doubleheader at Santa Fe Community College on Feb. 3, GHC pulled out a win during the first game 2-1. They lost the second game 9-1.
The Lady Chargers softball team had their first home game on Feb. 7 during the GHC Border Battle. This was a home tournament hosted by the Lady Chargers at Stars Field. They played three different colleges: Gadsden State Community College, Chipola College and Spartanburg Methodist College.
There was a pitching change early in the first inning due to three runs scored by Chipola, including a home run. The pitcher was changed to Brandi Hughes. After the switch, Chipola didn't score any runs until the fourth inning when they brought the score to 5-0.
This would also be the inning with GHC's only run. Sierra Cagle, catcher, hit a rocket into the outfield and got in runner Hillary Rowell. However, this was not enough, and the Lady Chargers were defeated by Chipola 11-1.
"This weekend was the first time our young team had to face adversity," said Melissa Wood, GHC softball coach.
"It's hard to go play such a hard schedule as a new program, and you get tired of losing, but our team stepped up and won two of three at our home tournament, including a program first win against a nationally ranked team," said Wood.
Wood said that she is looking forward to seeing what the team will do in their conference.