Jesse Stroup inspires others by living his dream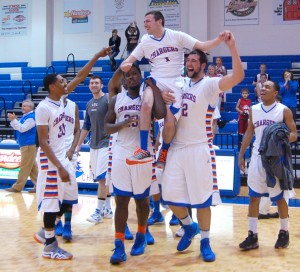 Georgia Highlands' basketball manager, Jesse Stroup, finally got the chance of a lifetime; to suit up and play in a college basketball game.
Stroup's love for sports began at the young age of 11. In the 2012-2013 inaugural basketball season, Stroup tried out to be a part of the Chargers basketball team.
Due to his cerebral palsy, Stroup was unable to make the team, but Phil Gaffney, athletics director and head men's basketball coach, made a special spot for him as their team manager. "Jesse is a great kid with a big heart. He has meant a lot to our basketball program," Gaffney said.
Since then, Stroup has been the manager for the GHC Chargers. He helps the team practice, gets the team water, runs the webcam for the basketball games and most of all, he cheers his team on.
On Feb. 25, Stroup made his college basketball debut during the last home game of the 2013-2014 season. When the Chargers were up by 20, Gaffney put Stroup in the game. Scoring two three-pointers in the last three minutes of the game, Stroup helped his team to their victory over LaGrange College. "We were glad to get him in the game and thrilled that he hit two shots!" said Gaffney. Stroup described his memorable game as "unbelievable."
When the members of the Chargers basketball team spoke of Stroup, they called him a true inspiration. About this, Stroup replied, "It makes you feel good, like you're doing something right."
Joe Bigham stated, "He has a lot of passion for the game. He always wanted a chance to play. That's all he's talked about. He finally got his chance."
David Mathis, assistant athletics director, stated, "We all have been blessed by having Jesse in our lives, here at GHC."
After GHC, Stroup plans to transfer to either the University of West Georgia or Kennesaw State University to major in sports management to become a sports recruiter.