New trees help to decorate the Georgia Highlands Floyd campus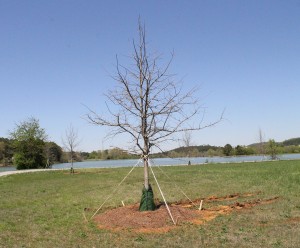 The Floyd campus now has 30 new editions in the form of swamp white oak trees.
Bill Cox, grounds supervisor for GHC, bought the oaks from Nature's Incorporated during a special sales event. The oaks are eight to 10 years old, around four to six calipers (the diameter of the trunk) as well as between 18 and 25 feet tall.
The trees were planted behind the Bishop Observatory at the beginning of March. "I chose this area because there is a lot of room for the oaks to grow. Plus, the area would be even better with shade," said Cox.
He chose swamp white oaks because they grow well in several types of soil and on different ground levels. Swamp white oaks are hardy trees with tough bark and provide plenty shade and cooling.
Cox stated beavers are a major problem for trees around the lake at the Floyd campus, and to make sure that the beavers stay away from the bark of the oaks, he implemented an anti-beaver invention.
"I placed chicken wire around the base of the trees to keep the beavers from gnawing on the wood. Hopefully the beavers won't decide to go to Home Depot and rent out a chain saw," said Cox.
It usually takes 30 to 50 years for swamp white oaks to reach their maturity, and by that time the trees will be about 50 to 70 feet tall.
However, the oaks will not experience much growth for the next couple of years because they are slow growing and their roots have to reestablish. According to Cox this is why it actually is best to plant in the fall so the roots will have time to reestablish by summer.
Mark Knauss, professor of biology, believes that "the trees will greatly enhance the experience of anyone who uses the road for recreation."
He said, "There is the added benefit that the acorns produced will provide forage for wild animals, such as deer, turkeys and a variety of small mammals, which might be seen by students and others who frequent that part of campus."
Cox stated, "I hope the students will be proud of how the property and trees look. I try to plant things that will look good long into the future."
As for future landscape projects, Cox said he hopes to have a few more projects from the "Master Landscape Plan" implemented. The master plan holds several future landscape ideas such as getting the Floyd campus a new entrance sign.