Georgia Highlands College basketball teams look forward to a competitive season
Even with some injured players, the GHC basketball teams are more than eager for the challenging and competitive year ahead.
The goal for the Lady Chargers this season is to keep improving.
In their 2012-13 inaugural season, the Lady Chargers had a winning team until the "injury bug" caught up with them.
"Last year was very different. I think we overachieved, so we want to carry that mentality over into this year," said Brandan Harrell, head women's basketball coach.
Last season, the Lady Chargers made it all the way to the GCAA conference finals but lost the championship by only one point. "We want to take ownership of how close we were and that we can do better," Harrell said. "We want to remember that pain. We remind our sophomores every day of how much it hurt to walk off the court at the end of the championship game last year."
The Lady Chargers are very fortunate to have five returning players from last season, China Henderson, Bria Ratliff, Aujana Dawkins, Skye Overby and Michaela Suttles.
Along with the returning, there are three experienced  transfer athletes, three freshmen and a returning player from the 2012-13 season.
Henderson, a returning guard for the Lady Chargers, tore her ACL while setting up for a lay-up during a pick-up game over the summer.
"We know we had a big loss losing China for the year," Harrell said. "Over the course of last year, she was becoming one of the best guard defenders in our conference."
According to Henderson, she's ahead of the predicted recovery schedule, but it is  uncertain if she will be able to play this season.
Henderson hopes to be back on the court by February, but she is taking the road to recovery one step at a time. "If I feel comfortable, then I can play the last 14 games. I'll be cleared by then, but that's only if I'm comfortable."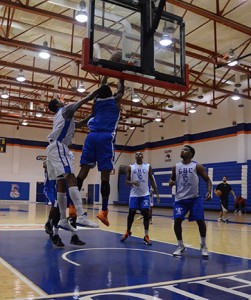 In their inaugural season, the Chargers had a rough start and were the last in the league. Last season, the Chargers made it to the semifinals of the GCAA playoffs.  "We almost did something that nobody's ever done, which is in your second year go to nationals, so we were very close to making history," Phil Gaffney, head men's basketball coach and athletics director, stated.
Behind by one point, the men weren't able to advance to the finals. "There was a lot of emotion in the locker room," Montrel Goldston said. "This year, I just want to win conference, make it to nationals and win the national championship."
The Chargers have only two returning players from last season, Goldston and Donovan Harris. "They were great last year, and should be great this year," Gaffney said.
Goldston, a returning guard, broke his foot while playing a pick-up game at the end of summer break.
Although he is still recovering from surgery, Goldston expects to be back before the season begins.
"This year, we have plenty of kids that can go in and play, so with Montrel being hurt, we have the luxury of two or three other guys that can go in and play until he gets back," Gaffney stated. "He's a really good player, but we aren't going to rush. We're going to take our time, and make sure he's healthy."
The new Chargers range in experience. Some have transferred from two-year and four-year schools.
Those who have transferred have experience in college basketball from previous years.
The rest of the team is made up of talent fresh out of high school.
"The guys on our team are really smart and they catch on really fast," Goldston said. "They know that Coach Gaffney means business."
"This year, we are one step forward from last year," Gaffney said. "Our talent level is better than it was last year. We're a little bit bigger, we're a little bit quicker, a little more scoring, a little more defense. So far this year we are very happy with all the effort they are giving, and we should be better than we were last year."