Intramurals begin at Floyd
Talk of co-ed football, 3-on-3 basketball and the cornhole tournament can only mean one thing: intramurals are back at the Floyd campus.
GHC offers a variety of intramurals including co-ed flag football, 3-on-3 basketball, a tennis tournament and a cornhole tournament, among others.
Floyd campus' intramural director, J.J. Merritt, wants to see participation increase this year in all intramural sports. "Football had the strongest showing last year," Merritt said.
He hopes that the rest of intramurals will do as well as football has in the past.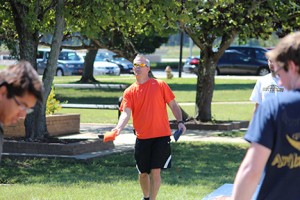 "I'm really excited because I never really got involved at my previous school, and I'm looking forward to having fun and competing," said Jeremy Vaughn, computer science major.
Flag football and the cornhole tournament are among the first intramurals to start at Georgia Highlands.
Looking forward to flag football, Emily Rader, physical therapy major, said, "I'm super-duper excited because I can't wait to show up all the guys."
Riley Solomon, mathematics major stated, "It's going to be tough, we are going to have to put in a lot of hard work, but it's going to be a fun team sport."
The cornhole tournament and co-ed flag football games are currently under way, but students can still register for the tennis tournament and 3-on-3 basketball. The deadline to sign up for the tennis tournament is Oct. 8 and the deadline for 3-on-3 basketball is Nov. 3.
Students interested in participating in Floyd Campus intramurals may contact Merritt at [email protected] or 706-204-2252.