Georgia Highlands Chargers stampede over the Cleveland State Cougars in home opener
With a final score of 95-66, the Chargers were victorious in their season opener.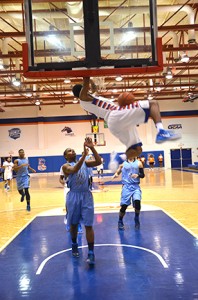 On Saturday, Nov. 1, the men's basketball team hosted the Cleveland State Cougars of Tennessee in the GHC gym at the Floyd campus.
"Everybody played very unselfish," said Phil Gaffney, head men's basketball coach and athletics director. "They played very hard, and when we do that, good things will happen."
"We have a little bit more work to do," Jordan Adams, freshman forward for the GHC Chargers stated. "If we can get better in defense and stop fouling out, then I feel like we will be ready for the rest of the season."
Leading scorers for the Chargers were Ty Toney with 22 points, Denzel Council with 16, Taquan Givens with 13 and Terrance Thompson with 12.
The Chargers' next game will be Nov. 4 at the Floyd campus gym against Gadsden State. Tip-off will be at 7:30 p.m.
Wednesday, Nov. 5, the Chargers will face Pasco-Hernando State College at home at 7 p.m. PHSC is a Division II team from Florida.
As of Nov. 4, the Lady Chargers' have a season record of 0-2. The first home game for the Lady Chargers will be Nov. 11. Tip-off is set for 5:30 p.m.