Spoken Word Poets I.N.K. inspire the Floyd campus
"If your words are never heard the world goes on without them," was one of the many inspirational quotes and themes spoken word poets, Lane Shuler and Courageous, portrayed during their visit to the Floyd campus on Jan. 27.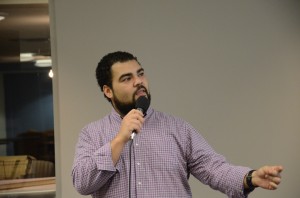 Making the finals of both the National Poetry Slam and Southern Fried Poetry Slam, the duo, also known as I.N.K., started touring colleges after being chosen for the top 15 of Versus and Flow in 2013.
"I always enjoy bringing spoken word artists to campus. It's something that not a lot of students get exposure to, and it's fun to watch and gauge the student's interaction and how they respond to spoken word poetry," said John Spranza, director of student life on the Floyd campus.
The duo's set list varied from Encouraging Spoken poems to comedic and spontaneous beat-boxing and rapping.
If students missed their performance, or if they would like to find more of their poetry, they can visit their website: http://www.inkpoets.com