Chargers steal both wins in doubleheader
GHC baseball hosted a doubleheader on Sunday, March 1 against the Sinclair Tartans of Dayton, Ohio. The first game resulted in a 6-4 come from behind win for GHC over the Tartans.
In the second game Amiel Abreu, a righty, took the mound. Abreu threw four innings, mostly getting grounders to short and fly balls for easy outs.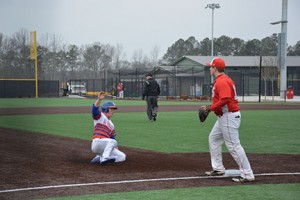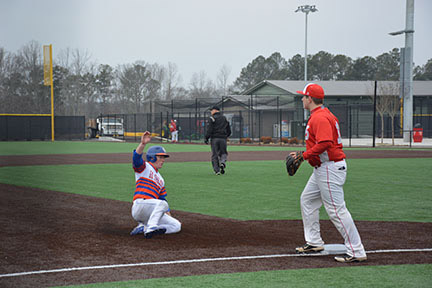 The Chargers were down 3-0 going into the third inning when shortstop Matt Rivera footed out a single. With Rivera's speed on first, the Chargers took advantage and cashed in on a wild pitch later to put GHC on the board.
Alec Arnsdorff led off the fourth inning with a base knock to the left side. Then up came Zack Nierstedt, a third baseman, who fought at the plate with the Tartans pitcher and came up with a single to left.
On the verge of a rally, Ty Ervin came to the dish with bases juiced and GHC down 4-1. Ervin took the opportunity with a swat placed to the second baseman who couldn't handle it and botched the throw. Ervin reached safe and two runs scored. Sinclair's pitcher, under pressure, threw a wild pitch, sending the tying run home for the Chargers.
Sophomore Dalton Geekie gathered himself and stepped in to put the Chargers ahead for the first time on a RBI sac fly to right. GHC was ahead 5-4 with two men on when a bizarre at bat unfolded.
Nick Day struck out, but Sinclair's catcher couldn't hold on to the ball causing a dropped third strike. The catcher botched the throw to first which led to a spirited sprint from Day and the two Chargers on base to make the score 8-4.
After a rally by the Tartans to level the score at 8, Nierstedt scored Bryan Quillens on a squeeze bunt, and the Chargers won 9-8, sweeping the doubleheader.