Staff member Lauren Burkhalter visits Ghana
Lauren Burkhalter, administrative assistant at GHC's Marietta campus, was in Ghana, located in the subregion of West Africa, from Sept. 17-Nov. 3, 2014.
Burkhalter was a student at Kennesaw State University studying to get her master's degree with the program Science in International Policy Management and got the opportunity to go to Ghana as an unpaid intern for the Ghana International Chamber of Commerce (GHIC).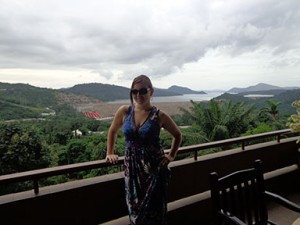 Burkhalter went as a social media strategist/coordinator working for the President of GHIC, Matilda Arhin.
Being that she was approved for an education leave, she had to work on her thesis for two months.
She said, "My thesis was the impact of social media on public policy, transparency and accountability. I interviewed government officials in Ghana and worked on radio and newspaper."
This resulted in satisfying her credit, and she graduated in December.
She traveled to Ghana before in 2013 on a whim. "I just graduated with my bachelor's degree and was feeling a little spontaneous," she said.
What has kept Burkhalter's interest in Ghana is how much help they need even though they are the second most developed African country behind South Africa.
She was there with her five-year-old during the Ebola crisis and realized how much social media had an impact on the whole outbreak.
She stated, "The people are an inspiration. Despite the fact that not a lot of them have a lot they continue to be happy, constantly thanking God for what they have and making me more thankful for what I have."
Burkhalter said, "My boss, President Arhin, was my biggest inspiration because she went to school in the U.K. and the States, and now she is successful."
She continued, "This goes to show you that education is key, and you can have the world at your fingertips."
Ken Reaves, dean of Marietta campus, has had Burkhalter as his administrative assistant for a little over a year now.
Reaves said, "Lauren is a valued employee, and I believe the Ghana trip will help make her an ambassador for higher education and study abroad."