Baltzer conducts his way into RSO
A new Artistic Director and Principal Conductor will be taking over the Rome Symphony Orchestra, and it is Samuel Baltzer, professor of music and community arts liaison.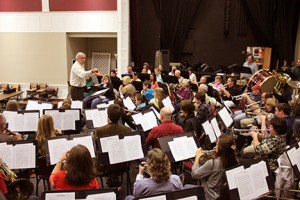 Baltzer started his musical career in third grade when his mother signed him up for piano lessons. He later began participating in the school band in fifth grade, and he "never stopped."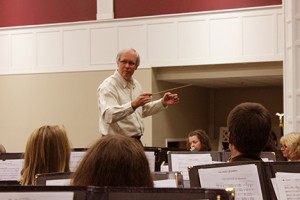 Baltzer has played with the Rome Symphony Orchestra before; he was principal trombonist for the past eight years. Although, since the conductor position was not available at that time, Baltzer became the conductor for the NW GA Winds, which is a community concert band.
"My reputation has been more of a band director instead of an orchestra director even though I was trained as an orchestra director. So recently when the Orchestra Director position became open again, I was invited to take it," said Baltzer.
Baltzer has already started his position as the RSO conductor. He is currently picking out music, dates and venues for next season and he will start conducting with the orchestra in September.
"I am excited to work with some of the greatest music on the planet. There are some wonderful masterpieces I've heard all my life and to get to stand in front of an orchestra and conduct those pieces is just really a thrill and an honor," said Baltzer.
Jon Hershey, dean of the humanities, stated, "Sam Baltzer has been a music miracle for many years in Rome and Northwest Georgia, so it makes perfect sense for him to become the conductor of the Rome Symphony."
He continued, "Georgia Highlands is fortunate to have him as we try to build our own music program.  Dr. Baltzer's work with the Rome Symphony is great for the community and great for Georgia Highlands."