GHC Chargers baseball enjoys new facility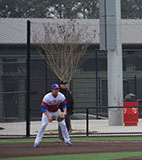 From playing where they could last season, the GHC Chargers have made an investment of $20,000, according to Mike Marra, baseball head coach, to secure a field at the new LakePoint sports facility for their home games during the 2015 baseball season.
"It's nice to be in one spot as opposed to last year where we played on four different home fields," stated Marra.
According to LakePoint's website, LakePoint is on track to be one of the world's largest and most unique destinations for travel sports. Covering more than 1,300 acres, LakePoint will feature state-of-the-art sports venues and amenities.
"I love it! It brings in a lot of scouts from around the area," said Amiel Abreu, pitcher for GHC.
He continued, "It's a huge deal for the program to have such a nice facility."