'What makes you tic?' asks speaker Marc Elliot
Marc Elliot, 25, has Tourette's syndrome.
Speaking to GHC audiences, Elliot said that Tourette's is a neurological genetic disorder that creates an "itch-like" sensation, and just like any itch, the body wants to scratch it.
When a person with Tourette's tics, he or she is scratching the discomfort. According to Elliot, anyone with Tourette's syndrome usually has multiple tics and at least one vocal tic.
Elliot has had this syndrome since he was five. He was diagnosed with it at age nine, when it was mild.
As time progressed into middle school, it became worse.
As he entered high school, stress began to build, and it was "atrocious." However, Elliot is now better than ever.
Elliot also has OCD and only four feet of small intestines, and has dealt with many difficult situations throughout his life.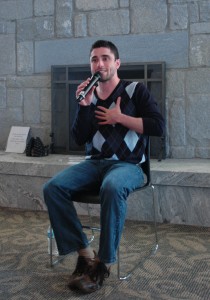 He has been made fun of, yelled at and even kicked off a bus. But even though he had many rough patches, he said, "I am truly blessed. I don't try to impress the shoes under the stalls."
Luke Thompson, a biology major on the Floyd campus, said, "It was an enlightening experience to learn about Tourette's and the troubles that Elliot has gone through. It was admirable of him to give a positive message about his condition."
Learning to be tolerant of everyone he comes into contact with, Elliot has also learned to love himself, and he understands he has something that he cannot change. It's not like taking back a pair of shoes he explained; Tourette's is nonrefundable.
There are seven billion people in the world. Out of those seven billion, 200,000 have Tourette's. "So," asked Elliot, "What makes you tic?"
Elliot spoke in the Cartersville library at 7 p.m on April 5. He also spoke in the Lakeview Auditorium on the Floyd campus on April 7.
He came to GHC as part of the college's Community Speakers Series sponsored by the Office of Student Life.