Tuesday, April 7, the Chargers baseball team played East Georgia State College at LakePoint, winning the game 7-3.
The game had a slow start with neither team putting any runs on the board until the fifth inning. East Georgia State put the first two runs on the board, but the Chargers came right back when Zach McCrum hit a homerun in the bottom of the fifth, helping three teammates make it home.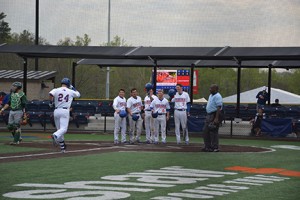 Later in the game McCrum hit a two run double, making a personal total of six RBI for the game. McCrum was definitely the star of the game, scoring six of the Chargers' seven runs. In the eighth inning East Georgia State made one run, and once again the Chargers came right back, scoring twice in the bottom of the eighth inning.
"It was a great team win. We played great defense and pitched well. I just happened to come up in the right spot with runners on," said McCrum.
"I was very pleased with our offensive execution," stated Mike Marra, GHC baseball head coach.
Marra said, "I thought we hit the ball well, and we got some big hits when we needed to. We showed a lot of resilience; a lot of good things happened offensively."
The Chargers' season ends May 2.