Student artist shares creative talent
After having a couple of major surgeries and being bedridden two years ago, Luis Valencia, an art major on the Floyd campus, took the initiative and decided to get back into painting.
"From not being able to do anything, all of my creativity and what I wanted to do just went on to the canvas," said Valencia.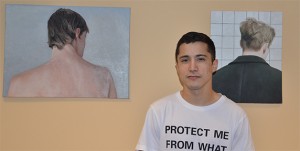 "I've always been an artist since I was little. I've always drawn, painted and been creative. During that time it went further and I took it more seriously," he continued.
The time it takes for him to complete one of his paintings varies due to a busy schedule. Usually it takes him about two to three weeks to finish a painting.
"I get into this zone when I am drawing, so I don't really think about anything else. I could be drawing for eight hours and sometimes I have to remind myself to eat or go to the bathroom," said Valencia.
Some of the artists that Valencia looks up to are Frida Kahlo, who is most influential to him, and Jen Mann, who is more of a modern influence.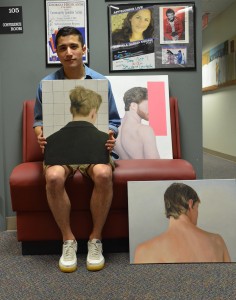 "I've really enjoyed having Luis in several of my classes," said Brian Barr, associate professor of art on the Floyd campus.
He continued, "I can tell you that he is not only an exceptionally talented artist, but also a very brave one. Luis is always willing to learn and try new techniques which is a rare quality for such a skilled artist."
Some of Valencia's paintings were featured at the Rome City Auditorium, and more of his work will be featured in the Old Red Kimono.
All of his paintings can be seen on his Tumblr page at http://l-valencia.tumblr.com.