Awareness is key in combating suicide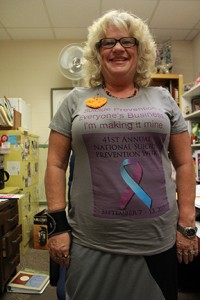 According to the most recent figures from the CDC, someone died by suicide approximately every 13 minutes in 2013. That's more than 41,100 people who died of suicide in that year alone.
Susan Claxton is the human services program coordinator on the Floyd campus, and she is alarmed by these numbers. She says that suicide is preventable and encourages people to be aware, get involved and educate themselves on the subject.
Claxton said, "Talking about suicide is not going to create it or cause it to happen."
She says to not be afraid to ask a person if he or she is contemplating suicide.
Claxton urges those who are thinking about committing suicide to seek help.
A psychology major who has a family history of depression said, "You're not crazy or abnormal. It's okay to feel sad and scared. There are people who want to help, you just have to ask."
Some find it hard to ask for help. One student who has struggled personally said, "With today's society, people perceive admitting that you need help makes others think you're weak. People are afraid to get help."
This student also encourages others to seek help as well as to keep going, saying, "Even though you feel that you have no reasons to keep going right now, you do. Someone somewhere will point that out to you."
Sophomore Paris Ballinger of the Floyd campus said, "Pain is temporary. It might last a day or a week or a year, but it'll get better."
GHC has counselors on each campus that students can speak to confidentially and at no charge.
The National Suicide Hotline number is 1-800-273-TALK (8255).