Hip-Pop Don't Stop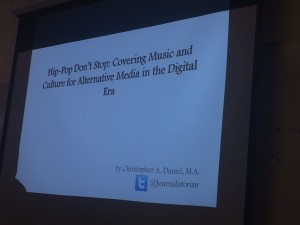 Being in the digital age has made it easy to get fresh news in an instance.
From live Twitter updates to Buzz feed articles, our media has become much like fast food – quick, simple, and straight to the point. The print news is quickly becoming obsolete because of it. This has a lot of new journalists worried, but Christopher Daniel, Music and Culture Editor at The Burton Wire, says to end any fears about immersing into online news.
On October 22, 2015, Daniel gave a speech in Sean Callahan's course, The Psychology of Hip Hop.
In his presentation, Hip-Pop Don't Stop: Covering Music and Culture for Alternative Media in the Digital Era, he gave advice and tips on how to establish oneself in niche media. Although his presentation only discussed Hip Hop news sources, it really provided a lot of insight on how break the barrier of online news.
To check out more of Christopher Daniel, follow his twitter: @Journalistorian.