One Book author encourages crowd to get dirty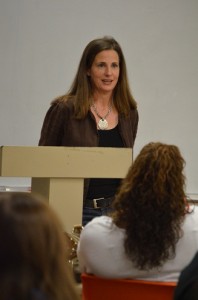 Kristen Kimball author of "The Dirty Life: On Farming, Food, and Love" captivated an audience of approximately 350 at the Huffman Center at Darlington School in Rome on Oct. 13. The author, with a love of heels and a petite frame, did not appear big enough to use teams of two-ton horses to farm nearly 500 acres, but she and her husband do.
In referencing her attire for the One Book, Many Voices lecture, Kimball stated, "When you are a farmer, business casual is really confusing!" She said that business casual for her was normally blue jeans and manure covered boots.
Kimball and her husband began a Community Supported Agriculture (CSA) farm in 2002. They have been successful in that the farm has been profitable from the very beginning. This is not usually the case.
CSA farms sell "shares" to the public, and in exchange the farmers provide vegetables, fruits and other products produced on their farms to their shareholders throughout the growing season.
The Kimballs provide vegetables, fruits, sweeteners, grains, along with pork, poultry and beef products to their shareholders. Kimball said that their farm supports approximately 170 people and they receive 90 percent of their calories per year from the farm.
The Kimball's CSA farm is different from most other CSAs because it provides a complete diet for the shareholders and the  Kimballs. The only product they cannot provide is vegetable oil because they don't have the facilities to make it.
"Local food system farming and consumerism is a good idea whose time has come," according to Kimball. It is good for the environment because, for the most part, chemicals are not used and antibiotics are not introduced to animals unless they are ill. On company operated farms, antibiotics are routinely used in animal feeds.
The local food system is successful because of what Kimball calls "Atomic Loyalty." Their shareholders never abandon them once they become members. Some shareholders drive four hours one way every week to buy their products.