Retired Georgia Highlands professor's new book tells parents' story of love and war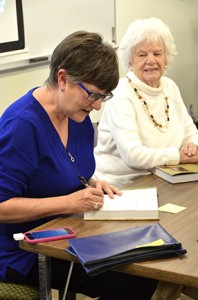 Leigh Callan was a Georgia Highlands College professor for the school's health sciences division for 27 years before retiring in 2002. Now Callan has authored her first book, Here's my Heart: A Legacy of Love and War.
The book provides the first-hand experiences of Leigh's father, Lieutenant Doyle K. Whittenburg, during World War II through the pictures and love letters that he sent home to her mother, Juby.
After Callan's retirement, she found herself with nothing to do, so she asked her mother if she could have the letters. Since her father had always wanted something done with them, she began transcribing them for her family.
She had heard the stories from the war all of her life, but she never knew the personal side of it. She said, "I got the facts, but in the letters he is so willing to tell every thought he had. He would tell you his deep feelings about these events."
The letters changed her perspective of the war and her father, and she knew then that the letters were unique. Callan said, "I thought we should not just keep this for ourselves. It needs to be out there for other people to enjoy and learn from, so I hope that happens."
To walk in their dad's footsteps, Callan and her brother, Ken, traveled to England, Belgium and Germany to visit the places her father had documented in his letters to Juby. They visited an English manor that her father had stayed in during the beginning of the war. They also visited a family her father had stayed with and a crystal factory that their father had mentioned in a letter.
They returned and showed Juby the pictures they had taken and a goblet they had bought from the crystal factory. According to Callan, Juby said, "I felt like I was there." Callan happily responded, "Mission accomplished."
On December 7, 2015, Callan did an informal presentation and book signing at the Floyd GHC campus library. To purchase a copy of Here's my Heart: A Legacy of Love and War, please visit leighcallanauthor.com.