GHC athlete Diokpara shares her journey from Nigeria to Georgia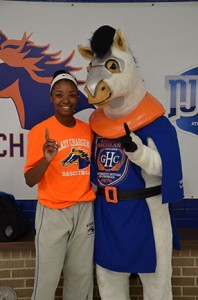 I was born in Nigeria and when my family moved to America, I started playing basketball in second grade. My parents saw my potential because of my height and immediately signed me up. I was doing well playing in Upward basketball, which is a faith-based sports organization; however, I would soon find out that the league in which I played wasn't competitive enough for me to do well in my school's basketball program.
I was in seventh grade I had made a good impression on Ms. Banks, the head coach for the seventh grade team. She liked me because I was also in her advanced math class. She saw that I was tall and thought she could make good use of me.
Unfortunately, the five years I spent playing Upward basketball completely went down the drain at the tryouts. I did so bad that another girl who had never played basketball in her life ended up starting before I did.
Let's just say that I was truly a bench rider in seventh grade and almost half of eighth grade basketball season. I felt very discouraged. My parents always told me that nothing good in this world comes easy. You have to pray because God's timing is the best (Ogeychi kan ma). I remember my dad coming to my games and telling me that I always did my best, even though I did terrible. After all of these years of playing, I never saw any type of playing time.
It was around this time my best friend Zachary, my youngest brother, was born and we started attending Christ Anglican Church. Later on I remember my pastor preaching about if you don't give up on God then He won't give up on you. God always has a bigger and better plan for you and His time is surely the best time.
I feel like during eighth grade was when I officially gave my heart to Christ and I started becoming closer to Him. I started praying to Him and finally reading my Bible without my parents telling me to.
It was then December of my eighth grade year and I was still riding the bench. There was a game against Austin Road Middle School and the girl who started in my position became sick suddenly. So I was next in line.
Austin Road was the best team in the county and was undefeated. The worst part is that I wasn't told that I was starting until 20 minutes before the game started.
I played in the game and ended up doing better than anyone else on the team that night. We won and ended their undefeated streak. It happened to be on the same night that the head varsity basketball coach for the girls' team came to "scout us out." He pulled me to the side and talked with me and my dad. He said, "I have a spot for you on my team next year so don't go anywhere. I have big plans for you."
From that point on, I started for the rest of the season and eventually made the varsity and JV teams my freshman year. The rest is pretty much history and now I'm here at Georgia Highlands playing basketball.
As for the future, I want to get my associate's in Biology/Pre-Med and transfer to a four-year institution. I also plan on minoring in business. After that, I want to attend Mercer School of Medicine or Herbert Wertheim College of Medicine (Florida International University).
Ultimately, I want to become a pediatric cardiologist and practice in the metro Atlanta area. I want to open a pediatric hospital in Nigeria and a clothing boutique for tall women like myself.