Lady Chargers gain tournament experience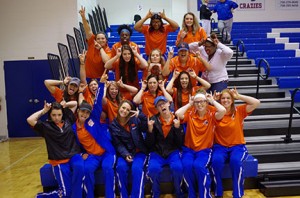 The Lady Chargers softball team competed in the JUKO Kickoff Classic in Clearwater, Florida over the weekend of Jan. 29.
The Chargers would get the opportunity to face off against teams who play in one of the most competitive junior college regions in the nation. Coach Melissa Wood stated that "The tournament would provide the Chargers an opportunity to play Florida teams who have been playing consistently throughout the whole year."
The Chargers kicked off their tournament run against Pensacola State College on Jan. 29. The team would win the first game with a score of 6-5 as the Chargers would defeat the PSC Pirates.
Daytona State College would be the second team the Chargers would face on Friday. The team lost against the Daytona Falcons in a close game, with the score of 4-5.
On Saturday the team faced off against Pasco-Hernando State. The team showed great composure from the first inning to the last. Caitlin Parks, freshman catcher, would hit her first homerun to bring in two runs for the Chargers. In the same game, freshman pitcher Rebecca Meade would pitch her first shut down as the team took the win with a score of 9-0.
The team suffered tough losses to ranked teams Central Florida, Florida Southwestern and St. Johns River State. They would also lose a close match against St. Petersburg with a final score of 2-3.
The team was able to accomplish one of their main goals in the tournament, which was to get quality innings in order for the freshmen to gain experience and confidence.
When asked what improvements the team needed to make, Caitlin Parks said "having the offense and defense come together as one," is what will make the team successful this season.
The Chargers would end the tournament with a record of two wins and five loses.
In preparation for the upcoming conference match against Darton State College on Feb. 26, the Chargers will compete in the GHC Border Battles, Texas Spring Tour and the Gulf Coast Tour Tournament.