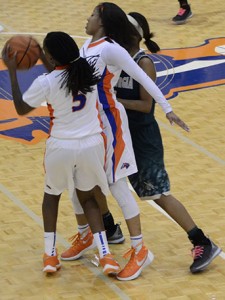 The Lady Chargers earned their way through the first round of the GCAA Conference Playoffs and advanced to the Final Four, after defeating East Georgia State, 78-52, at home on Feb. 23.
The score was close through most of the game, but at the end of the third quarter, the Chargers were up with a score of 56-31. Kayla Carter, who has been named to the GCAA 1st Team All-Conference, was the top scorer with 18 points and 5 rebounds.
The Lady Chargers take on the Darton State Lady Cavaliers on Friday, Feb. 26, at South Georgia Tech in Americus. Tip-off is at 5:30 p.m. If the Lady Chargers advance on Friday, they will play in the GCAA Conference championship game on Saturday, Feb. 27, at 3 p.m. at South Georgia Tech.
Here is the link to stream the playoff games live: http://thegcaa.com/tournament/2015-2016/1516gcaawebstreamlinks