Lady Chargers are GCAA Division I champs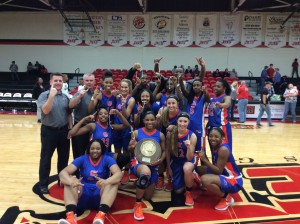 The Lady Chargers are now GCAA Division I champions, defeating South Georgia Tech 65-63, on Saturday, Feb. 27, at 3 p.m.
At halftime the score was 35-34 with GHC leading the way. With 7 minutes to go in the game, GHC was up by 9 points. In the last few seconds, the score was 65-63, and South Georgia Tech was held off by the Lady Chargers, finalizing the score of 65-63.
Kayla Carter was the top scorer, with 19 points and 6 rebounds. De'Ashia Jones also had double digits, scoring 10 points and 5 rebounds.
The Lady Chargers will travel to Spartenburg Methodist College to play in the NJCAA District J National Tournament. Date and time is TBA.