GHC Chargers lose 3-1 to Ohio Sinclair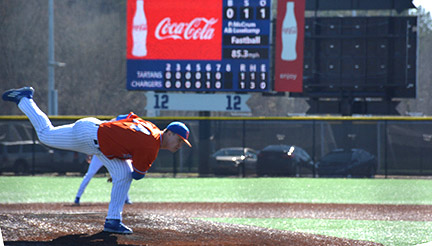 The Georgia Highlands Chargers hosted the Ohio Sinclair Tartans on Saturday, Feb. 27, losing the non-conference game 3-1.
The match between the Chargers and the Tartans would become a battle between the pitchers. The Chargers would open up the game with Chandler Newton on the mound.
Coming into the third inning the Chargers decided to change pitchers with Zach McCrum replacing Newton. McCrum would pitch the next three innings without giving up a run. However, the Tartans would answer with pitcher Alex Anders keeping the Chargers at bay.
As the game reached the sixth inning the score was 0-0. The Tartans would be first up to bat and managed to score the first run of the game. The Chargers' offense countered quickly with a run of their own from Andrew Cooley.
The next run came during the eighth inning from the Tartans. This time, the Chargers were unable to respond with a run of their own.
The pitching battle between McCrum and Anders concluded early in the ninth inning when the Chargers brought in pitcher Colby Taylor. Under Taylor's pitching the Tartans' offense would score one more run.
The Chargers would be unable to score in the ninth and lost the game with a final score of 3-1. At the end Coach Mike Marra said, "The team was solid defensively, but the team needs to capitalize on opportunities offensively."
The Chargers play their first conference game at 5:30 p.m. on March 15.